Basement Remodel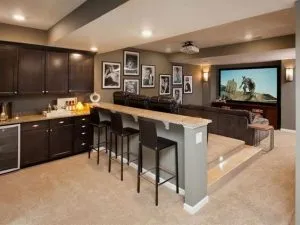 A basement can be a cold, dark, spooky place with concrete floors and lots of "unlivable" or unwelcoming space. A basement remodel transforms this area of your home into a warm, practical and even fun place to spend time.
Perhaps you want an extra bedroom, a home office, a game room, a family room, a "mother-in-law" or renters apartment, or a play room for the kids.
There are so many options for turning wasted or impractical square footage into fantastic living space with a basement remodel.
Not to mention that a basement remodel will add massive value to your home.
Generally, a basement remodel begins by preparing the walls, ceiling, floor and windows with moisture, mold and mildew-resistant materials.
When the basement is fully finished, you will still have access to your plumbing, heating and water systems.
A basement remodel can take less than two weeks, depending on the size of the area to finish and the remodeling design that you choose. When completed, you'll have a whole new floor of your home to use and enjoy without the expense of a costly addition.
Twin City Handyman specializes in basement remodels as well as kitchen and bath remodels. We would be pleased to sit down with you and help you plan the basement of your dreams.
Contact Us for a free estimate consultation.